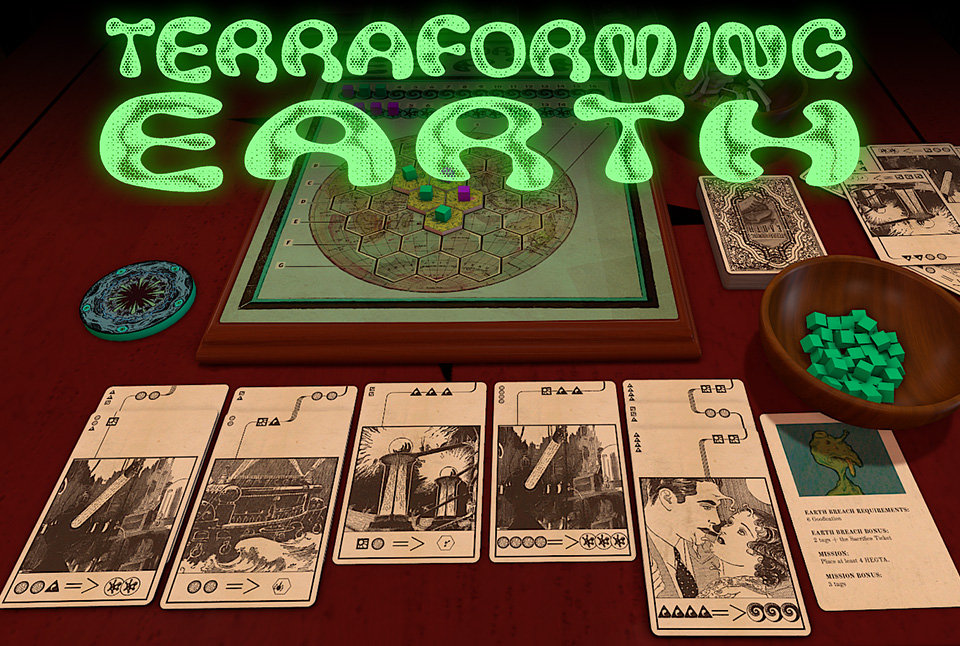 Terraforming Earth

TIME to make earth habitable! Turn the ocean into goo, help the earthlings grow tentacles, and sacrifice the least efficient team member to the dark one! Terraforming Earth is a quirky little game that's easy to get into. It's a faster and more casual version of That Other Game, but with its own mechanics!
How To Print
You will need A4 paper and a printer. To cut the cards out, you need a cutting mat, a utility knife, and a ruler.
Print the manual: Terraforming Earth - Manual.pdf
Find some thick A4 paper and print the 8 pages of Terraforming Earth - Cards Front.pdf. Once printed, turn the stack of paper over and print Terraforming Earth - Cards Backside.pdf on the backside.

Find some photo paper and print Terraforming Mars - Tokens and Suchlike.pdf and Terraforming Earth - Map.pdf

Cut out the cards and the tokens. Done!
Or almost done. You need a bunch of tags, that is, a bunch of roughly 0,5 cm cubes, one color for each player.
Digital Version
If you got Tabletop Simulator installed, you can find a digital version in the workshop:
https://steamcommunity.com/sharedfiles/filedetails/?id=2370187083

Hello Fellow Game Designers!
While the core gameplay works, this is still very much a work in progress. So I'll be super grateful for any opinions about the game.